Practical Drink Recipes
When practical drink recipes are mentioned, almost everyone's appetite starts to rise. The bodies, which are overwhelmed by the heat, cold and seasonal changes, often prefer summer drinks, even though they want to eat. Beverages are often consumed alongside food. Drinks that can be an alternative to tea and coffee, which are indispensable tastes of daily life, are very popular lately. In addition to all these, besides the sudden sweet cravings, the most preferred ones are undoubtedly the beverages that can be evaluated in the soft drink class. Drinks that go well with desserts have become the crown of our table.
Summer's Indispensable Lemonade: Strawberry Lemonade
When summer is mentioned, the first practical summer drink that comes to mind is undoubtedly lemonade. Lemonade, which we drink fresh and cool and can also be made with different fruits, offers a feast of tastes that will occur on our palate. Strawberry works wonders in lemonade as well as in many desserts and drinks. Here is a perfect strawberry lemonade recipe for you: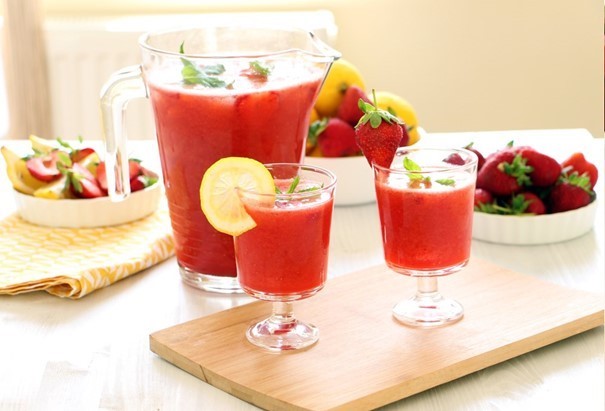 Materials:
15-20 strawberries
3 lemons
3/4 cup granulated sugar
5 glasses of water
How To:
Take the peels of 3 lemons with the thin part of the grater, and then squeeze the juices thoroughly.
Mix the grated lemon peels with 3/4 glass of granulated sugar in a bowl and knead well for 1-2 minutes.
Add lemon juice to the lemon peel – granulated sugar mixture you have kneaded. Stir until the sugar in the mixture dissolves.
Wash and sort 3-4 strawberries thoroughly. Take the washed and sorted strawberries into the blender and add the lemon mixture to it. Blend on high until the mixture is smooth.
Strain the mixture you have mixed in the blender with the help of a strainer.
Add 5 glasses of water to the filtered mixture and transfer it to a jug.
Keep the strawberry lemonade you prepared in the refrigerator. You can share your lemonade with your loved ones. Enjoy your practical summer drink!
With Meal or Alone: Peach Compote
Peach compote, which suits well with food and plays a great role on its own, will give you an exquisite practical beverage experience.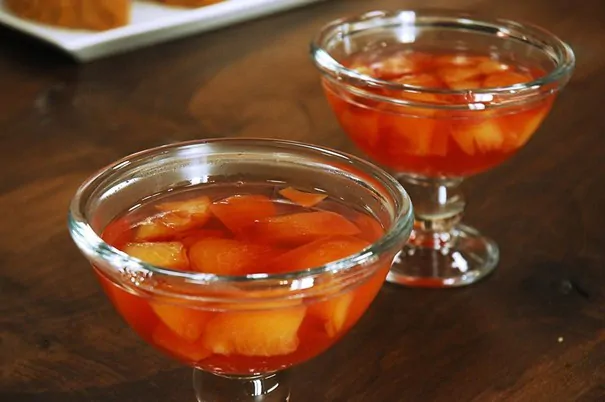 The recipe for peach compote is as follows:
Materials:
6 medium-sized peaches
4 cloves
2 cups granulated sugar
1 stick of cinnamon
8 glasses of water
How To:
Peel the skins of 6 medium-sized peaches that you washed with plenty of water, remove the seeds and then slice them thinly.
Take 2 cups of granulated sugar and 8 cups of water in a deep saucepan. Stir with the help of a wire whisk until the sugar in the water dissolves. Add 4 cloves and 1 cinnamon stick into the mixture and bring the mixture to a boil over low heat.
Add the peach slices to the mixture that starts to boil and cook for another 10-15 minutes on low heat.
Remove the cinnamon and cloves you added earlier from the mixture.
Remove the boiling peach compote from the fire and cool at room temperature. Take the compote that you have cooled at room temperature to the refrigerator and keep it in the refrigerator for 1 hour.
Your peach compote is now ready. You can serve your compote with fruit slices. Enjoy your practical summer drink peach compote!
Number One Choice of Those Who Don't Like to Eat Breakfast: Atom
Some people do not like to have breakfast very much in the morning. These people generally look for different alternatives to breakfast. Here is a suggestion that these people will often prefer instead of breakfast: Practical Atom Drink!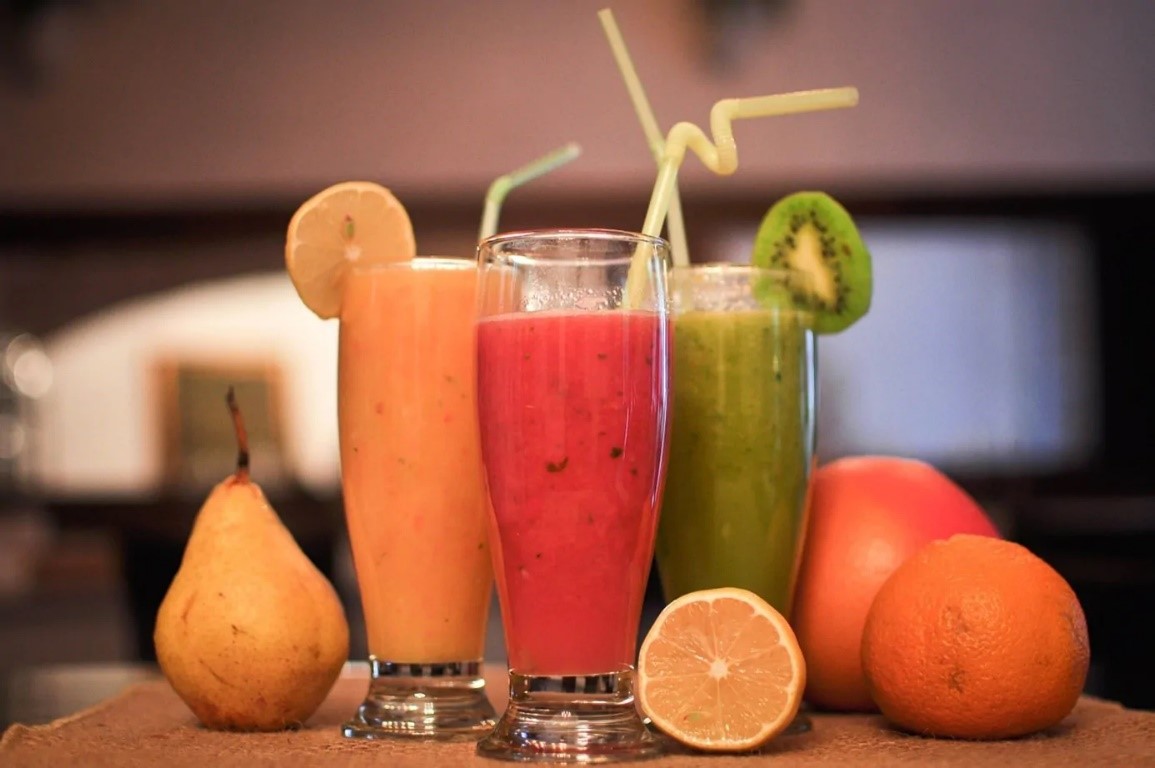 The atomic recipe is as follows:
Materials:
2 cups of milk
1 large-sized banana
2 teaspoons Nutella or alternative chocolate
5 teaspoons of honey
1 kiwi
How To:
Put all the ingredients in the blender and mix until homogeneous.
Transfer the mixture you have prepared into a glass and keep it in the refrigerator for a while.
Your practical drink atom, which is the favorite of the mornings, is ready. Enjoy your practical atom drink!
Liquid Form of Ice Cream: Coffee Milkshake
The meeting of milk, ice cream, grated coconut, chocolate chips, and unique coffee in the same glass… Here is a coffee milkshake!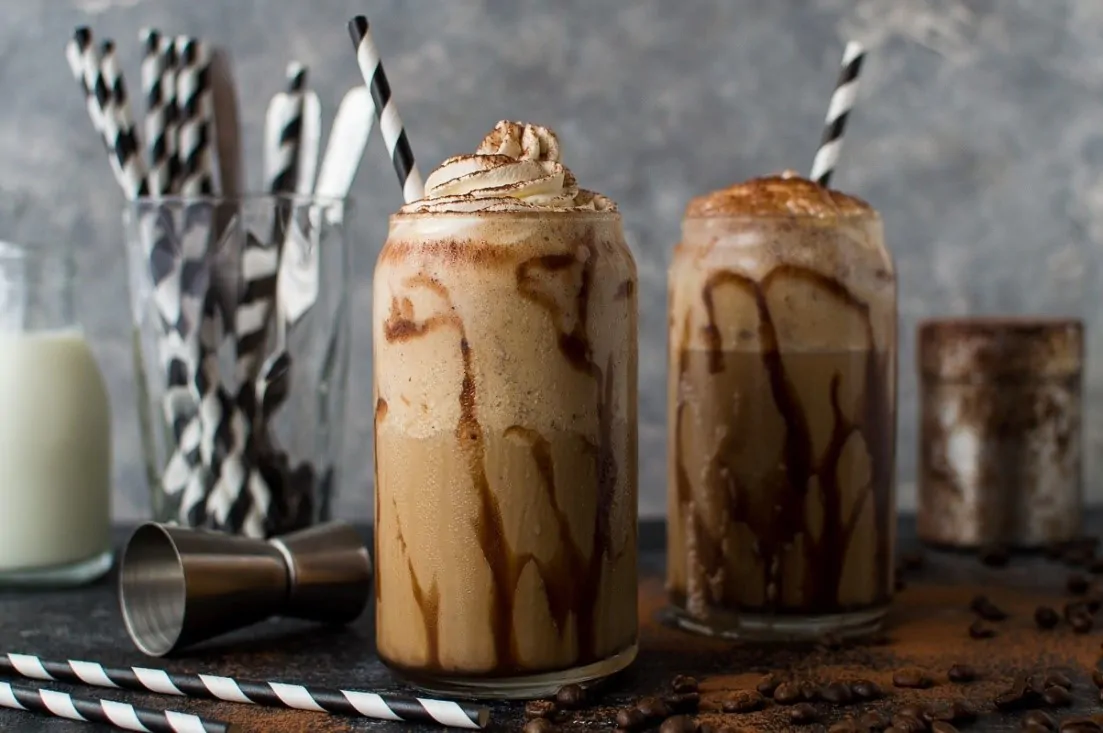 The practical summer drink coffee milkshake recipe is as follows:
Materials:
400 milliliters of cold milk
4 ice cubes (optional)
2 scoops of vanilla ice cream
2 scoops of chocolate ice cream
1 tablespoon of granulated coffee
1 teaspoon of chopped chocolate
1 tablespoon of granulated sugar
1 teaspoon grated coconut
How To:
Take 2 scoops of vanilla ice cream, 1 tablespoon of granulated sugar, 1 tablespoon of granulated coffee, and 200 milliliters of milk in a blender bowl.
After adding the ice cubes to the mix, start the mixing process.
Add the remaining 200 milliliters of milk and 2 scoops of chocolate to the ice cream mix and continue mixing for a while.
Take the coffee milkshake mix you have prepared into large glasses.
Sprinkle the chopped chocolate chips and grated coconut on the coffee milkshake mixes you have taken into the glasses.
You can serve the coffee milkshake drinks you have prepared without waiting. Enjoy your practical coffee milkshake drinks! We have compiled the most popular summer drinks for you, we wish you a pleasant sip in advance