What Are Some of the Best Fruit Trees out There You Can Choose for Your Garden?
 A lot of people dream about having a house that has a garden big enough to plant and grow their own fruit trees. But most of these people miss the hardship of knowing what trees they can grow and which ones can actually give them crops after all their hard efforts. That's why doing some in-depth research before deciding which trees should grow in your fruit garden is crucial before starting the long and rewarding journey of growing trees.
Planning Your Fruit Garden: The Basics
Before talking about some of the most favorable trees that you can pick for your fruit garden, we need to talk about what types of factors play a role in fruit trees' growth. The first and most important factor is the climate your soon-to-be fruit garden is affected by. By simple logic, you can guess that trees that like to grow in warm, moderate climates probably won't be giving you any fruits if you decide to grow them in your cold-as-ice garden in Canada. That's why checking which fruit trees grow the best in the climate your garden is in. While doing this research doesn't just stop at your country's general climate and search even more locally. Sometimes, two cities that are next to each other can have so many glaring differences in their climate that taking a tree that grew in one to the other can mean the end of that tree. Also, it is really important to know which trees cross-pollinate and which trees don't need that. Basically, trees that cross-pollinate need at least another tree of its kind next to it in order to, as the name suggests, pollinate their flowers. Therefore, when planning out what your fruit garden will look like after you have planted all of the trees, you should know that a specific fruit tree might take-up quite the space from your garden as they should come in pairs, at least. Lastly, you should know how much space you can work with and leave that space entirely for the trees.
As Popular and as Easy as It Gets: Apple Tree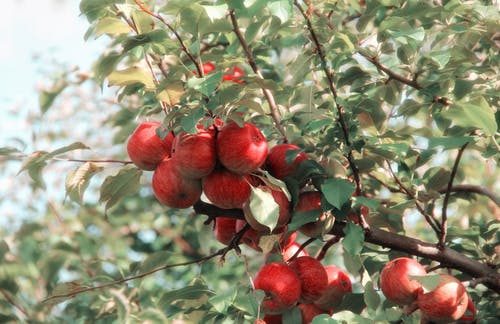 If you are a beginner to growing fruit trees and want to know where to start this beautiful hobby, here is your answer. Apple trees are as easy as it gets when growing the tree and getting your first harvest. They are easy to take care of, small enough that they don't need acres of land in order to grow and also almost self fertile, with some of its species being fully self-fertile and the others only needing one other tree of the same type in order to cross-pollinate. Some other things still need to be given special care, for example apple trees need to be planted with care and technique. But once you learn these small fine details there is not much left to be done. These trees don't require much to be maintenanced. Learn how to plant them and how to prune them, fertilize the tree at appropriate times (generally around spring) once a year with pruning and you are good to go. You will get your first crops in two to four years if you follow all of these basic steps.
Tastes Sour, Grows Sweet: Lemon Tree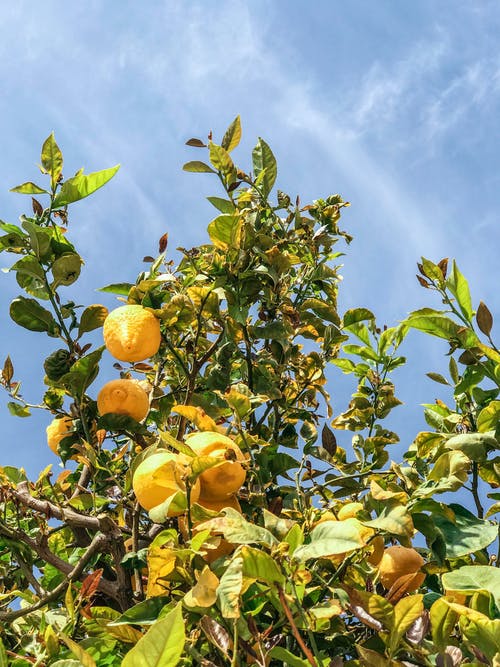 Continuing on our mission to color your fruit garden with all the warm colors, we recommend lemon trees as a great candidate for you to grow. Though they look warm with their yellow fruits, lemon trees actually can survive colder climates and harsher scenarios. This makes them a notable nominee for gardens all over the world. They are also quite small compared to the other trees we have on this list. They are, in fact, so small and compact that you can grow one and get its first harvest in a pot. How cool is that? Though quite tough, however, they are not cactuses or anything. That means there are still some things you need to look out for. First, they need quite some nutrients to grow, so searching for good fertilizers that are recommended for them is a must. Also, in order to get the most amount of lemons, you should learn their pruning techniques. Lastly, though they are not so fragile to cold, it's still a good idea to get them in a spot that's not that chilly for the tree's health and vigor.
A Pink Blessing to the Eyes, a Sweet Blessing to the Mouth: Cherry Tree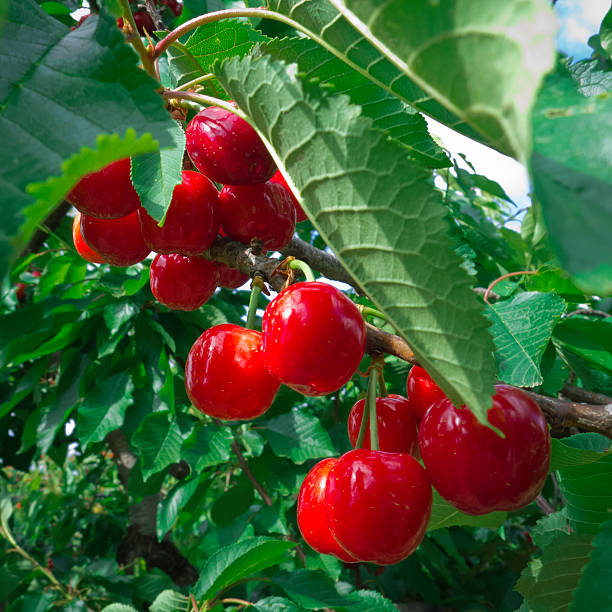 Trees are pretty, no matter which type it is. But cherry trees put most of the trees in the shadows when it comes to their prettiness. They are absolutely astonishing and stunning when they blossom. The violet/pinkish tints of each flower will surely make you daydream about heavens when you look at them in your fruit garden. Moreover, it is not just the looks that are absolutely stunning about them. They are also one of the most low-maintenance and fertile trees you can find to grow in your garden. They don't require much effort, just like apple trees, and also don't need much pruning or maintenance after they start to blossom and give crops. Also, the different variants of cherries like to grow in different type of conditions, thus making them available for different climate conditions. Usually, sweet cherries like sunny spots that can get a little warmer while sour cherries can do well in shady spots. That's why they are our final recommendation on our list, as their small, versatile nature makes them a great candidate.