Why is lean construction important for infrastructure projects?
Lean construction is a method of designing production systems at a construction site to save time and effort and reduce the waste of materials.
It ensures that a project needs to be accomplished quickly, and lower costs are incurred during the construction process.
Moreover, it strives to maximize value and minimize costs during construction project design, planning, maintenance, and activation. Globally, the use of lean construction boosts the construction industry's productivity.
Lean construction possesses the following critical elements:
Contemporary design and engineering
Objectives that are clearly set for the delivery process
Employment of project control is implemented throughout the project life cycle
Everyone involved in the lean construction project, from the architects, constructors, designers, and wise owners to the last tradesman, ensures that the project is high-quality, delivered on time, and less expensive.
In this blog, we'll be covering a few aspects emphasizing on benefits of lean construction:
1.    Waste Reduction
A core principle of lean methodology (and the biggest benefit) is reducing waste in construction processes. A typical assumption is that waste is just materials that go unused and unnecessary on a project site. But, waste is represented in lean as any material, action, or process that is expensive, inadequate, time-consuming, and takes away value from the customer.
Lean practices don't only drive reduced physical waste but also declines in rework, wait times, unneeded personnel utilization, overproduction, processing time, excess inventory, and motion waste. As a construction firm, when you apply lean construction principles to their project management practices, all forms of waste are immensely reduced.
2.    Robust Quality Control
Reducing waste is a noble effort; however, the construction business eventually comes down to the quality of your build. It can also enhance construction quality control techniques.
Due to lean's emphasis on constantly improving processes, the quality of your deliverables and quality control protocols drive the removal of irrelevant methods. Determining the best way to provide value to customers indicates that your result is more likely to satisfy the expectations of clients and stakeholders.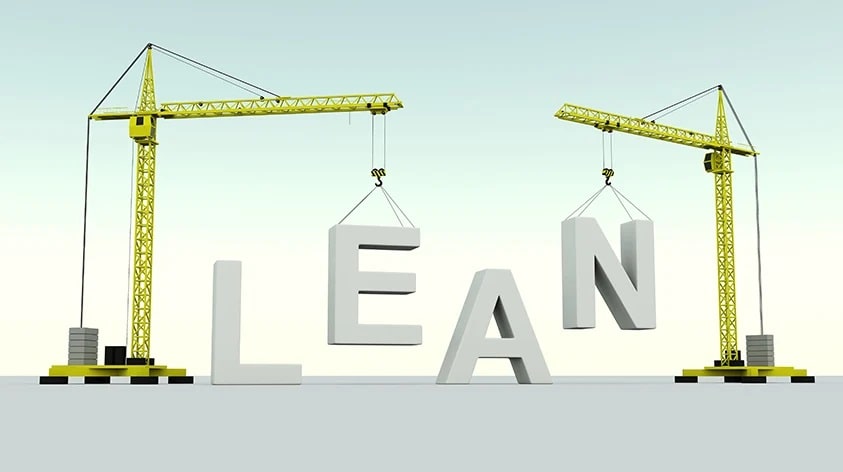 3.    Improved Customer Satisfaction
The goal of any lean business is to deliver what the customer wants precisely with the least possible waste. Lean project delivery is all about optimizing procedures to serve customers' needs for high-quality results conveniently and cost-effectively.
Research indicates a robust correlation between organizations that execute lean practices and accomplish project deadlines. In fact, lean projects are feasible three times to help you meet deadlines on time and two times more likely to be achieved under budget. Adopting lean construction methods enables a high-quality delivery within project timelines and budget—indicating happy customers.
4.    Increased Revenue
Waste reduction and efficient procedures control financial losses from wasted materials, resources, and time. In a sector where materials are costly and orchestrating teams is complicated and time-consuming, the more waste your company produces, the higher your project costs will be. Eradicating waste and optimizing workflows creates an ecosystem for construction companies to improve productivity and financial returns by embracing lean construction principles in their operations.
How to Implement Lean Construction
If you're planning to improve your construction business, it is the best way. But how do you go about executing lean construction principles?
First, begin with your people.
It is about empowering your employees and providing them with the tools they need to thrive. That means investing in training and education and building a culture of constant improvement.
Also, review your existing processes and see where you can simplify them. It principles highlight eliminating waste, so check for ways to trim down steps that don't add value.
Ultimately, make sure you have the correct technology in place. Technology can help you automate tasks and keep track of improvement, both of which are important for lean construction success.
By following these tips, you'll be well on executing lean construction in your business. And once you leverage the benefits firsthand, you'll never return to the old way of doing things!