Understanding the IPC-620 Standard: Better Cable and Wire Assembly
As more and more industries need better cables and wire, it is important to have standards that everyone agrees on to determine if they are good quality and dependable. The IPC-620 is a standard that sets a high level of quality for assembling and installing cables and wire harnesses. This post explains about the IPC-620 standard, the different types of it, how the certification process works, and the many advantages it provides.
What Does the IPC-620 Standard Means
The IPC/WHMA-A-620C, also known as the IPC 620 standard Revision C, is the newest version of the widely used industry standard for making and installing cables and wire harnesses. This update, which came out in 2017, aims to make cable and wire setups even better. It builds on the guidelines given in older versions to improve their quality and reliability. It includes guidelines on materials, methods, tests, and criteria for determining whether the connections are acceptable.
The IPC-620 was created by the IPC (Institute of Printed Circuits) and WHMA (Wire Harness Manufacturers Association). It is the only accepted standard by the industry for making and installing cables and wire harnesses. The IPC-620 gives instructions on how to make crimped, mechanically secured, and soldered connections and related assembly activities.
Different Types of IPC-620 Standards
The IPC-620 standard has three categories, each with different quality expectations and criteria for acceptance.
Class 1 – General Electronic Products: This class is for products that prioritize the overall function of the finished assembly.
Class 2 – Reliable Electronic Products: This category includes products that are designed to work for a long time and without any breaks. These products are important but not extremely critical.
Class 3 – High-Performance Electronic Products: This category is for products that need to work at a consistently high level or be able to perform very well when needed, especially in important or sensitive settings.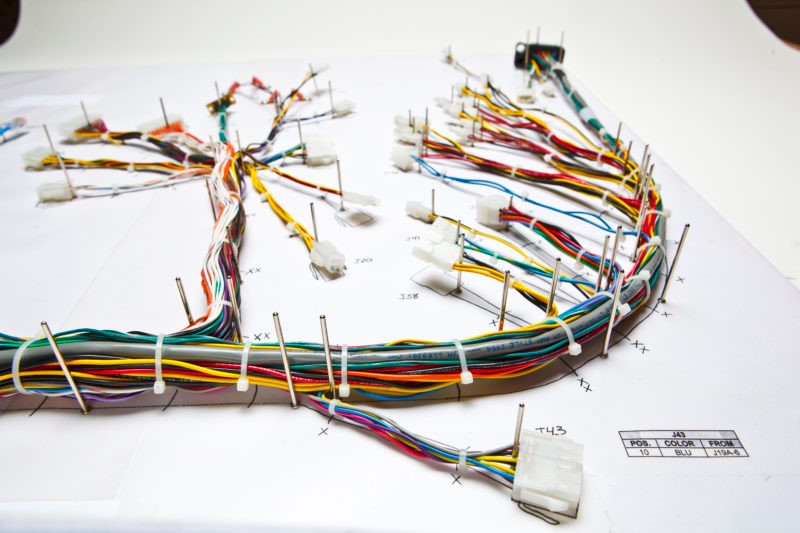 Importance of IPC-620 Standard
IPC-620C has many important changes and improvements. This guideline gives more specific rules for testing cables and harnesses, crimping, soldering, and other tasks, highlighting the importance of strict quality checks. The changes in the revision also include new standards for over-molding and potting, which make the rules more detailed and complete.
Complying with the IPC 620 standard Revision C helps manufacturers make sure their products meet the best standards in their industry. The updated rules show the newest technology and best ways of doing things, so IPC-620C is important for any company that makes or uses cable and wire harnesses.
IPC-620 Certification
The IPC-620 certification is divided into two levels depending on a person's job and responsibility in a company.
Certified IPC Specialist (CIS): This is a certification for people who work in jobs like assembly operators, quality control personnel, and inspection staff. It is meant for individuals in these roles. The CIS certification confirms that these people fully understand the IPC-620 standard and can use it well in their everyday work. This credential is important because it makes a specialist more knowledgeable and trustworthy when checking how well cables and wire harnesses are made, based on what the industry expects.
Certified IPC Trainer (CIT): This is someone who has been certified to teach IPC-620 training to people working in their organization. The CITs are like experts and teachers in a company. They train others so that everyone understands and follows the standard. CITs have both a good understanding of the IPC-620 standard and the ability to teach their colleagues about it.
Validity of IPC-620 Certification
The IPC-620 certification stays valid for two years. After that time, people need to go through a process to confirm that they still have an up-to-date and complete understanding of the standard. This continuous education and recertification process makes sure that certified people stay updated with any changes or updates to the standard and can keep using the standard effectively in their work.
Advantages of IPC-620 Standard
Quality Assurance: Following IPC-620 ensures that cable and wire harness assemblies are of high quality and reliability. This helps to decrease flaws and make the products last longer.
Customer Trust: Following the standard increases customer confidence and happiness by making sure that the products they receive meet the best industry norms.
Competitive Advantage: Certification gives you an advantage over your competition because it shows that you are dedicated to delivering good quality and dependable products or services.
Improved Efficiency: The standard makes manufacturing processes more organized, resulting in less waste and better efficiency.
Improved Communication: This standard creates a common way of speaking, making communication better between different companies and between suppliers and customers.
Conclusion
The IPC-620 standard is very important in making sure that cable and wire harness assemblies are of good quality and can be trusted to work consistently well. By creating a standard that everyone agrees is good, it lets people know that products are good quality and helps businesses grow. Whether you make, sell, or use electronics, learning and following the IPC-620 standard is important for making reliable products and ensuring the electronics industry can last for a long time.