The Upcoming Lipstick and Make-up Trends in Spring-Summer 2022
In the ever-evolving world of beauty and fashion, keeping up with the latest trends is crucial. As we step into 2023, a new wave of lipstick and make-up trends is set to captivate beauty enthusiasts around the globe. From bold color choices to innovative application techniques, this year promises to be an exciting time for experimenting with different looks. So, without further ado, let's dive into the upcoming lipstick and make-up trends in 2023 and discover how you can stay ahead of the curve.
Lipsticks are everything for beauty. They are undeniable parts of our lives. The lipsticks are always a pick-me-up item, even for women who don't like to wear makeup. Although, applying lipstick is fun, with the pandemic going on for about 3 years, showing our lips has been almost impossible. However, thanks to the slow abandonment of the masks, lips are back in the game. This is confirmed by the make-up seen in the recently concluded fashion month and by the new beauty collections that bring the focus back to the lips. So, without beating around the bush, we can say that this year's main characters are lipstick and gloss in the 2023 make-up trends.
1. Sustainable Beauty: Embracing Eco-Friendly Products
As the world becomes more environmentally conscious, the demand for sustainable beauty products continues to rise. In 2023, expect to see a surge in eco-friendly lipstick and make-up options. Brands are focusing on creating formulas that are cruelty-free, vegan, and packaged in recyclable materials. By choosing sustainable beauty products, you can both enhance your look and contribute to a healthier planet.
2. Vibrant and Bold Lips: Making a Statement
Bold lips are making a comeback in 2023, and they're here to stay. Vibrant shades such as fiery reds, electric pinks, and deep purples will dominate the lipstick scene. These attention-grabbing hues are perfect for adding a pop of color to any outfit or occasion. Whether you prefer a matte or glossy finish, there's a bold lip color out there to suit your style.
3. Glossy and Dewy Skin: The Glow from Within
Say goodbye to heavy matte foundations and hello to glowing, dewy skin. The "no-makeup" makeup look will continue to reign supreme in 2023, emphasizing natural radiance and luminosity. Achieve the perfect glow by opting for lightweight foundations or tinted moisturizers with a dewy finish. Highlighters and illuminators will also play a key role in accentuating the high points of your face, giving you that coveted lit-from-within look.
4. Monochromatic Makeup: Harmonious Color Palettes
If you're looking for a cohesive and effortless look, monochromatic makeup is the way to go. This trend involves using similar shades of the same color family on your eyes, cheeks, and lips, creating a harmonious and put-together appearance. For example, a soft pink hue can be used on your eyelids, cheeks, and lips for a rosy monochromatic look. Experiment with different shades to find the one that complements your skin tone best.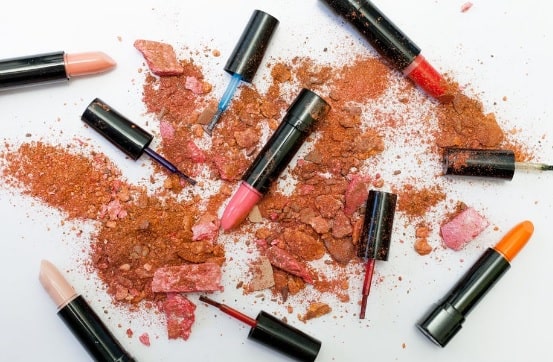 5. Graphic Eyeliner: Channeling Your Inner Artist
Take your eyeliner game to the next level with graphic designs and bold shapes. In 2023, graphic eyeliner will be all the rage, allowing you to channel your inner artist. From geometric lines to abstract patterns, this trend offers endless possibilities for creativity. Grab your favorite liquid eyeliner and let your imagination run wild.
6. Skinimalism: Embracing Your Natural Skin
Embracing natural beauty has never been more popular than it is in 2023. Skinimalism, a combination of "skin" and "minimalism," focuses on enhancing your natural features while keeping your makeup routine simple. This trend encourages embracing your skin's natural texture and imperfections by using lightweight products that let your skin shine through. Say goodbye to heavy contouring and hello to embracing your unique beauty.
Frequently Asked Questions (FAQs)
FAQ 1: What are the top lipstick shades for 2023?
In 2023, bold and vibrant lipstick shades will be all the rage. Some popular choices include fiery reds, electric pinks, deep purples, and even unconventional colors like blues and greens. It's all about making a statement and having fun with your lip color choices.
FAQ 2: Are eco-friendly beauty products effective?
Absolutely! Eco-friendly beauty products not only prioritize sustainability but also offer high-quality performance. Many brands have invested in innovative formulas and ingredients that deliver the same level of effectiveness as traditional products, all while being kinder to the environment.
FAQ 3: How can I achieve a dewy skin finish?
To achieve a dewy skin finish, start with a hydrating primer or moisturizer to prep your skin. Then, opt for a lightweight foundation or tinted moisturizer with a luminous or dewy finish. Finally, use a cream or liquid highlighter on the high points of your face, such as the cheekbones, bridge of the nose, and cupid's bow, for an added glow.
FAQ 4: Can I pull off graphic eyeliner if I'm a beginner?
Absolutely! Graphic eyeliner can be tailored to suit your skill level. Start with simpler designs, such as a classic cat-eye or a subtle wing, and gradually work your way up to more intricate patterns. Remember, practice makes perfect, and experimenting with different shapes and techniques is part of the fun.
FAQ 5: How can I achieve a monochromatic makeup look?
To achieve a monochromatic makeup look, start by selecting a color family that complements your skin tone. Choose an eyeshadow, blush, and lipstick shade within that color family, ensuring they are slightly different in intensity to add dimension. Apply the eyeshadow to your eyelids, blush to the apples of your cheeks, and lipstick to your lips for a harmonious and coordinated appearance.
FAQ 6: Is skinimalism suitable for all skin types?
Skinimalism is suitable for all skin types. The key is to adapt the trend to your specific needs. Whether you have dry, oily, or combination skin, there are lightweight products available that cater to different concerns. Focus on finding products that provide hydration, even out your skin tone, and enhance your natural features.
Conclusion
As we enter 2023, the world of lipstick and make-up is brimming with exciting trends. From sustainable beauty to vibrant lips and graphic eyeliner, there's something for everyone to explore and experiment with. Embrace your natural beauty, have fun with colors, and don't be afraid to step out of your comfort zone. Remember, make-up is a form of self-expression, and the trends of 2023 are here to inspire you to unleash your creativity. Stay ahead of the curve and make a statement with The Upcoming Lipstick and Make-up Trends in 2023.
To learn more about how VR technology is transforming the beauty industry and revolutionizing the way we experience and experiment with upcoming lipstick and make-up trends in 2023, check out this insightful article: New Realities with VR Technology. Discover how virtual reality is reshaping the beauty landscape and offering an immersive and interactive platform for trying out different looks and colors without the need for physical application. Stay ahead of the curve and embrace the new realities of VR technology in the world of beauty.