The Ultimate Guide to Custom Window Treatments 
There are a lot of factors to consider when selecting the right window treatments. From aesthetics to product features and price points, the options are endless.
One of the first things you must decide is what functional requirements you want from your new treatment. Do you need to fulfill specific room needs?
1. Style
The style of window treatments can be a key factor in a room's overall look and feel. The options are endless, ranging from the classics of curtain panels trailing on a decorative rod to modern draperies and woven roller shades.
Some homeowners embrace a more creative, freestyle approach to their custom window treatments and opt for patterned fabrics that can become a design element in the space. This can be a great way to add a pop of color contrasting with the dominant colors used in the furniture and bedding.
Another important consideration is the opacity of the fabric that covers your window treatments. This will determine how much light they filter and whether you must consider blackout curtains or other layered window treatment options.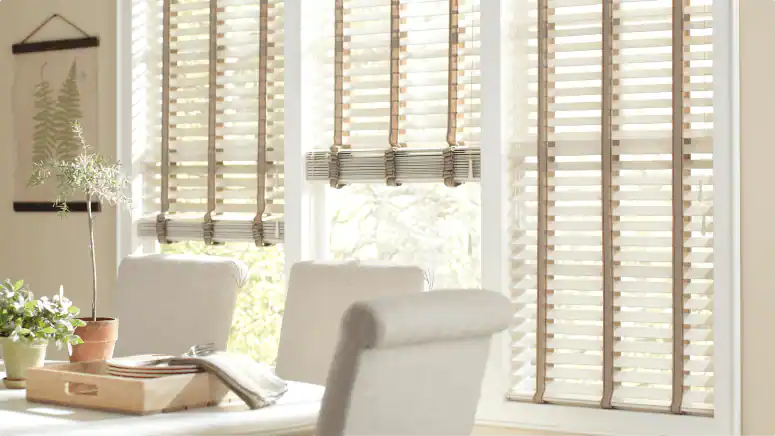 2. Light Control
Whether you want to bring warmth and privacy to your home or optimize visibility in a particular room, window treatment options can do it all. But knowing exactly what you want your window treatments to do before investing in any solution is important.
Curtains and drapes are soft window treatment options with various opacities allowing different amounts of light. For example, washed linen curtains and swathes of silk or velvet can hang to puddles on the floor, providing an elegant, old-world European feel.
Blinds and shades are hard window treatment options installed above the window frame with slats or panels that can be angled to block out sunlight. They also come in various colors and opacities, from sheer to dark. They can even include room-darkening varieties for day sleepers.
3. Energy Efficiency
Whether shopping for the most traditional, rustic or modern styles, window treatments can enhance and complement your design scheme. But they also must serve the functional needs of a room. That's why it's important to consider aesthetic and light control before purchasing custom window treatments for your home.
Window blinds and shades are hard window treatment options that typically feature slats moving across a window pane or door. They come in many color and opacity options for light control and privacy.
Honeycomb shades (cellular or insulated shades) are another popular option. They provide insulation against frigid winter weather and can even help save on your utility bill with their energy efficiency. These versatile shades can be lowered or raised and are available in various levels of room-darkening opacity.