Importance of AWS Certification in Today's Cloud Computing World
As the world is increasingly moving online, there is a growing need for people who can understand and use digital technology. Cloud computing is an important part of the digital revolution because it can give us reliable and affordable computing power. In this situation, Amazon Web Services (AWS), which is a top company for cloud services all over the world, provides various certifications that can help people demonstrate their abilities and knowledge in the AWS cloud platform. They help IT professionals get good jobs and provide great service in their organizations. AWS Certification helps learners build credibility and confidence by validating their cloud expertise with an industry-recognized credential, and organizations identify skilled professionals to lead cloud initiatives using AWS.
What is an AWS Certification?
AWS Certification refers to a recognition given to individuals who have shown expertise in using Amazon Web Services (AWS) technology. It signifies that a person has learned and demonstrated their understanding of how to work with AWS services effectively. Amazon Web Services (AWS) is the biggest online platform for storing data, with over 200 different services available worldwide. The need for people who are AWS certified has greatly increased. These individuals are skilled in creating, setting up, and overseeing applications and systems on AWS. The AWS Certification program helps people and companies prove their abilities in using cloud technology and improve their professional reputations.
These certifications are divided into four main groups – Basic, Intermediate, Advanced, and Specialised. These certification levels are designed to help individuals improve their knowledge of the AWS cloud. They start with a basic understanding of AWS services and gradually progress to more advanced skills like designing, managing, and operating applications. These certifications evaluate people on different skills connected to AWS, like designing, programming, and managing. Some well-known AWS certifications are AWS Certified Solutions Architect, AWS Certified Developer, AWS Certified SysOps Administrator, and many others. To get a certification, you have to pass a difficult test that proves you have the necessary skills. For this, getting AWS hands-on training is very important.
Benefits of AWS Certification
The importance and benefits of AWS certification are many. It shows that you have a good understanding of how to use AWS services and can be trusted to handle cloud computing projects. With an AWS certification, you stand out from other professionals in the field and have better job opportunities. Employers often look for candidates with AWS as it assures them of your skills and ability to work with AWS. It can also lead to better career growth. It helps you stay updated with the latest AWS technology and best practices, ensuring you can deliver high-quality solutions to clients or organisations.
AWS certification also offers access to a wide network of professionals, communities, and resources. You can connect with other certified professionals, join forums and discussions, and gain insights from their experiences. This community can provide support, and mentorship, and help you enhance your career. In summary, AWS certification is valuable as it demonstrates your expertise, opens up job opportunities, increases earning potential, boosts confidence, and provides a supportive professional network. Moreover, obtaining an AWS allows people to increase their chances of earning more money.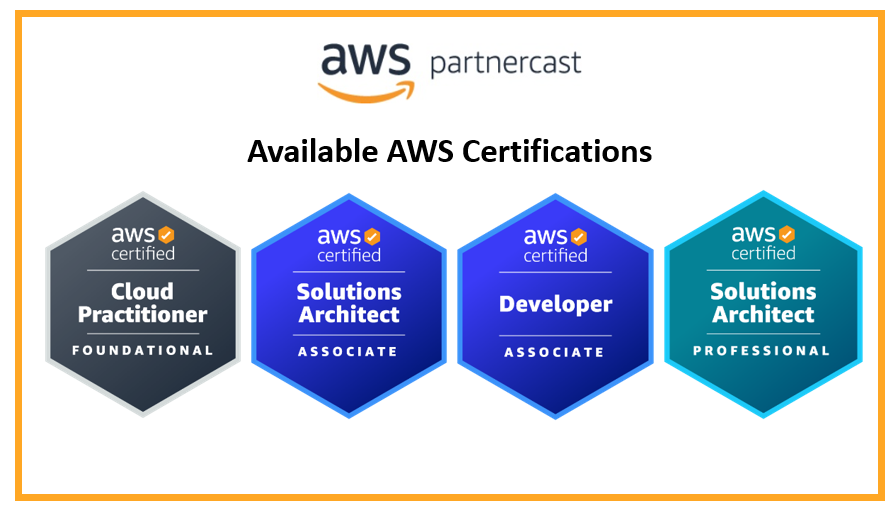 AWS Certification Preparation
Getting ready for AWS certification requires both studying the concepts and actually doing hands-on practice. AWS offers different tools to assist individuals in getting ready for their certification exams. These resources include training classes, informative documents, frequently asked questions and practical training sessions. You can take these classes either on the Internet or in a physical classroom. AWS also provides study materials like guides and practice questions to help people know what kind of questions they will face in the exams. AWS suggests getting hands-on experience with their platform by practicing and exploring it is a good idea. This means setting up and adjusting different AWS services, solving problems, and learning about how AWS works. AWS offers a set of services that beginners can use for free to try out and learn through practice. AWS hands-on training will really help you ace the exam.
Popular AWS Certifications
AWS Certified Solutions Architect – Associate is a very popular certification that many people want to have. It shows how well someone can come up with and put into action good ideas on the AWS platform.
AWS Certified DevOps Engineer certification is in high demand. This certification proves that someone is skilled in setting up, running, and controlling software on the AWS platform using DevOps methods.
AWS Certified Security – Specialty certification is done by many because it is well-liked. Cybersecurity is becoming a bigger issue, and people who have this certification are needed a lot. They have shown that they can keep the AWS platform safe, which is really important for any organization using the cloud.
Conclusion
In the cloud computing world, AWS certifications have become a measure of high quality. They provide a way for professionals to excel in the tough job market, show off their skills, and make a big impact in their companies. If you are new to using the cloud or have a lot of experience and want to prove your skills, getting an AWS certification can help you advance in your career.