How to Become a Successful Businessman? 
A businessperson, in general, is a person who owns a small company or a large entrepreneurial enterprise. If you have started a new biz or plan to start a new one on the way, then it is important that you read this post. Here in this article, we have discussed some proven tips that can help you become a successful businessman.
The success of a businessman is measured by tracking the personal and overall achievements of the company. Before starting a new business, it is important that you keep a few things into consideration. Let us discuss those elements and a few proven tips in detail.
Five Proven Tips to Become a Successful Businessman
Let us discuss the things in detail that you should know to become a successful businessman:
Get Appropriate Knowledge & Experience About the Business
In order to be successful in a business, you have to first educate yourself about it. If you don't know anything about the industry you are stepping in, then you are going to fail for sure. Now educating yourself doesn't mean that you need a Master's degree to start a business. 
You can enroll in a trade school and learn about the niche you are planning on targeting. You can also take online lectures on YouTube and attend webinars if you are interested in remote learning. Other than the theoretical knowledge of the business, you also need hands-on experience. 
Experts recommend that you must apply for internships in well-reputed institutions that are already working on the same niche/product or service. This would help you learn the ins & outs of the industry. Not only this, but you can also learn from the failures of other businesses. 
Once you have appropriate knowledge and experience about the business, you can easily grow it without any hurdles.
Always Start with a Detailed Plan;  Achieve Set Goals
If you want to make a business on the up and up, then you have to make sure that you begin with a detailed plan. You have to develop a strategy that can help you achieve your set goals. To plan a strategy, you need to, first of all, identify opportunities, target audience, desired output, mission statement, and, most importantly, set deadlines.
Working without a plan is just like traveling in a desert without a map. If you are not following a plan, then you will simply be wasting your resources and will eventually dry out. The plans you set, however, should be flexible and achievable by the set deadline.
You also need to track the progress of your business/company at regular intervals so that you know that you can complete the task/s on time. 
If you want to be an affluent businessman, then you must know best to take responsibility. Once you take responsibility, your team will follow your lead and will definitely work with willingness.
Hire The Best Team; Surround Yourself with The Right People
The success of your business majorly depends on your team. If you don't have competent people on your team, then your business will sink. To get results, you need a bunch of people who are loyal, responsible, committed, and, most importantly, interested in their jobs. 
You have to make sure that the staff you hire is smart and talented. Your team should share the same vision and mission statement as yours if you want to get booming results. Getting positive people on board is very important for any business out there, and this is because it accelerates workplace productivity. 
A friendly environment and growth culture always encourage better results which is why you need to engage yourself with the right people.
Manage Your Resources Smartly; Set Your Priorities
We have seen many startups fail just because they didn't know how to manage their resources. As a businessman, you must know how to build bridges to achieve end results. Once you have your strategies in plan and have hired the best people, you need to set priorities.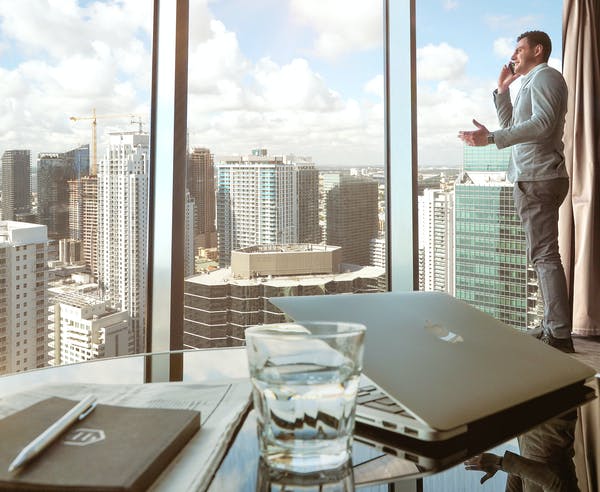 You need to make a list of tasks that you have to complete on priority. You can also call these short-term goals. Working hard is not always the key to success; today, if you want to be eminent, then you have to be smart. You need to complete difficult or lengthy tasks in the beginning so that you can take calculated risks in the end. 
Also, you need to spend resources on the project instead of wasting money on luxuries. As a businessman, your priority should always be the growth of your business and the care of your employees. Keeping your team happy and investing in your business would be fruitful in the long run.
Know How to Embrace Failure; Learn from Your Mistakes
As a businessman, you must know that success and profit aren't always promised. There is always a chance that even after setting goals, and plans, hiring the best people, and managing resources, you still might fail. To be fortunate in the long run, it is important that you know how to embrace your failures with a big heart.
Businesses fail when their owners don't embrace failures and blame their teams/managers for them. In failure and bad times, it is best that you analyze where you went wrong and improvise your work strategies. You have to take responsibility for the failures and avoid the blame game, as it would affect the productivity of the workplace.
A successful businessman knows that failure is an opportunity to start again more intelligently. Lessons you learn from your failures are the best, so you need to keep an open mind and be ready for the unexpected at all times.
End Note
Starting and managing a business is not as easy as it sounds. You must always start a business in the niche you are most interested in. You need to respect your team, value your customers, and appreciate your competitors if you want to be successful. The tips we have discussed above will help you follow a path to achieve success. In the end, we would suggest you learn to pick yourself up when you fail if you want to be a successful entrepreneur.