4 Factors to Consider When Choosing a Book Spiral Binding Service
When it comes to a professional-looking book, how it's bound plays a big role. For self-published authors, choosing the right binding is essential to promoting their work and getting it noticed by potential readers. Spiral binding is famous for manuals, cookbooks, photo books, and more. It allows for easy turning, lays flat, and opens 360 degrees.
1. Cost
Choosing a book spiral binding service can be a great way to keep all of your important documents together in one place. However, several factors must be considered before deciding on the right service for your project. For example, you'll want to think about the size of your document and how often it will be used.
Spiral binding may be the best option if you're creating a manual used frequently. It's durable, dependable, and can be opened 360 degrees for hands-free reference. Spiral binding is popular for manuals, cookbooks, journals, and other reference materials.
It's also ideal for short production runs of hundreds of books, saving you money on printing costs. Aside from that, spiral binding is also more versatile than other types of bookbinding.
This means that you can add or remove pages as needed. It's important to remember to change or remove pages from a spiral-bound book; it can be challenging to undo the coils.
Spiral binding is a great option for any business presenting a professional image with a custom book or brochure. This is especially true if you want to provide customers with a full list of your services and products. It's an excellent way to show off what your company can do and will help you stand out from the competition.
2. Quality
When choosing a book spiral binding service, you want to find a company with high-quality services and a proven track record. You'll need to compare different options and look at their prices and customer feedback.
Your book spiral binding service quality will affect how well the final product looks. You should also ensure the service you choose offers a variety of printing options and finishes, and binding techniques.
Spiral or coil binding is famous for manuals, workbooks, guides, and other reference materials. It uses a durable plastic coil that can accommodate a higher page count. Coils come in various colors, making them easily matched with any cover color scheme.
They're more durable than traditional methods and withstand rough handling. They're also excellent for instruction and repair manuals, cookbooks, directories, handbooks, and guides. You can even print them in full color on premium paper for a bold look.
The process of spiral binding a book involves punching holes in the pages, inserting a plastic coil, and crimping it. This method can be used for small and large orders and is a cost-effective way to make your products stand out.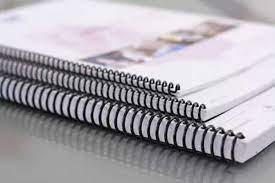 3. Turnaround Time
When you choose a book spiral binding service, the turnaround time will be one of the factors to consider. Regardless of the size or complexity of the project, the process must be completed within the shortest possible time. Several bookbinding options are available, each with production needs and costs. The best choice for your project will depend on the book's purpose, how often it will be used, and what customization is desired.
Spiral Binding:Using durable plastic coils, spiral binding securely holds the pages of your book together while still allowing them to lay flat. This type of binding is ideal for workbooks, manuals, and other projects that require frequent use or a high page count.
Wire Comb, Twin-Loop, or Double-Loop:This method creates a comb-like spine from two wire loops placed inside the punched holes on your book's front and back covers. These wire loops are then crimped, securely holding your book's cover and pages together.
Depending on your budget and the customization required, you can select from one of our five bookbinding services. Whichever option you choose, our printing experts will provide you with a quote for your project.
4. Customer Service
Customer service is among the most important factors when choosing a book spiral binding service. Great customer service is the right thing to do and can boost your bottom line. Customers who feel valued are more likely to return and refer their friends and family to you, which can translate into increased sales for your business.
As a result, your customer service team should have a well-rounded understanding of what your company offers and how to serve your customers best. If they lack this knowledge, it could lead to several problems, including lost revenue and dissatisfied customers.
The most effective way to provide excellent customer service is to create a culture of it. This involves incentivizing your staff to motivate them to provide a top-notch experience for your customers. You can start by introducing the concept of customer loyalty, a positive business strategy that is good for your bottom line and your brand reputation.