The Advantages of Using Blast Rooms
Blast rooms house the blast equipment and abrasive reclaim/recovery systems, making it easy to perform abrasive blasting. They also feature dust collection systems to filter the air, ensuring safety and visibility. By using reusable abrasives instead of expensive, single-use expendable materials, blast rooms can reduce the project's overall cost. They may save time and money by enabling workers to do more everyday chores.
1. Safety in Blast Rooms
Blast rooms are specially designed to withstand the demands of abrasive blasting. These enclosures are a much safer alternative to blasting in an open area such as an outdoor garage or shipping container. They feature a blasting cabin, media reclamation and dust abatement systems. Most blast rooms will have a blast pot that can be filled with various abrasives, such as steel shot.
They also have a media reclaim floor to start the recycling process and a dust collector to reduce airborne particulate in the blasting cabin. These systems prevent abrasives from going to waste and polluting the environment. They also increase efficiency and profitability by allowing powder coating shops to use recyclable abrasives.
However, it is important to remember that blast rooms are not fail-safe. Always put on protective clothing, such as a helmet and a respirator. You might also benefit from routine equipment sanitization. It includes cleaning the helmet, gloves and other parts of your body.
2. Efficiency in Blast Rooms
A blast room increases productivity by allowing the operator to perform abrasive blasting in a closed, enclosed space. It is also an economical alternative to blasting outside in open areas. Blast rooms can be outfitted with various abrasive media, dust collectors and other equipment for maximum efficiency and convenience.
A work piece enters the blast room through swing-type doors on one or both ends. The system may be combined to allow forklifts, rail-mounted work vehicles, and overhead monorail systems for simple loading into and out of the space.
An important component of any blast room is a media reclamation and recycling system, which lowers purchase and disposal costs by collecting and reusing abrasive waste. This system uses a pneumatic conveying system, cyclone centrifuge, dual adjustable air wash and magnetic separator to separate dust, debris and contaminants from high-quality reusable media. A separate dust abatement system reduces airborne particulate and helps the operator see clearly inside the blasting cabin.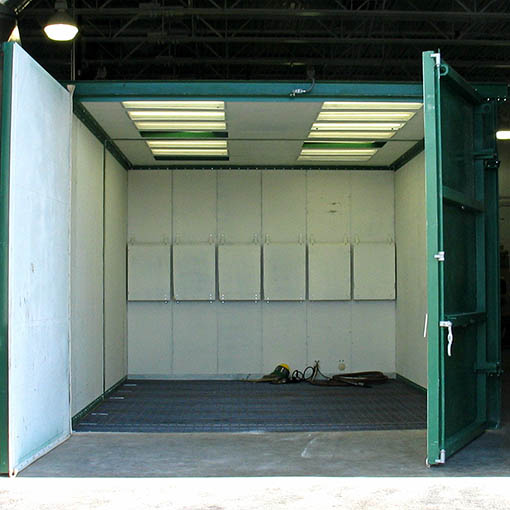 3. Environmentally Friendly
Blast rooms are more environmentally friendly to prepare surfaces for new coatings. They can strip rust, paint, and other surface contaminants. They are also more productive than traditional open blasting areas such as garages or shipping containers. A blast room is an enclosure that prevents abrasive particles from escaping into the environment.
These rooms are equipped with a dust collector that filters the air. Returning the filtered air inside the building stops dangerous dust or lead from evaporating into the atmosphere. In addition to a dust collection system, a well-designed blast room will include a media reclamation and recycling station.
This system collects and sorts through leftover abrasives to separate the dust from quality, high-grit abrasives that can be reused. This feature significantly reduces material purchasing costs and disposal expenses. It also increases the return on your initial blast room investment. A full floor abrasive reclaim system also reduces the amount of manual labor required to handle and store waste media.
4. Economical
Using cost-effective, reusable blast media in a blast room saves money and allows staff to work more productively. It helps to improve facility profitability, especially when used on large components. Blast rooms also provide a way to prepare metal surfaces for powder coating without creating a health and safety hazard for workers, as does liquid chemical stripping or contaminating the factory, hangar or workplace with toxic dust particles.
A typical blast room design features a media reclaim system that collects spent abrasive and recycles it for reuse. A complete system typically includes a series of motor-driven belts built into the enclosure's floor, reinforced floor grating and a bucket elevator connected to an abrasive cleaner.
The reclaim system can be sized for the capacity of a full blast room floor, or, for space and production flow considerations, it may be set up with collection built into only part of the blast area. A dust collector is usually included, and this can be either a cartridge or a cyclonic system.