Here's How Print Management Software Can Take Your Print Business to New Heights
Do you find it difficult to streamline and keep track of your print processes? If yes! Don't worry, technology has got your back. Print management software helps you deal with all the complexities you face in your print lifecycle and helps you avoid all the chaos that occurs while you're on it.
It can assist your company in comprehending the printing environment and integrating it into a single platform to handle your company's needs and assure the greatest possible financial gains. Let's discuss print management software and the many business needs for adopting print MIS.
What is Print Management Software?
A cloud-based SaaS solution called print management software is intended to centralize print management procedures swiftly and effectively. It is effective, inexpensive, and a game-changer for increasing labor productivity, profit margin, and ROI.
Your business needs wide-format printing, digital, offset, packaging, promotions, garments, labels, signage, and other printing industry sectors are customized by its integrated workflow management software.
What is The Importance of Print Management?
The practice of monitoring, regulating, and maximizing the use of printing resources inside an organization is referred to as print management. The importance of print management is found in its capacity to save costs, boost productivity, and enhance security.
Organizations may track and evaluate their printing activity, spot inefficiencies or waste, and put policies in place to maximize resource consumption by deploying print management solutions. This can result in significant cost savings, as well as a decrease in energy use and paper waste.
By introducing methods like user authentication and secure printing, which can stop illegal access to important information, print management can also assist enterprises in enhancing their security.
Ultimately, print management is a crucial component of any company's overall IT strategy because it may lower expenses while boosting productivity and security.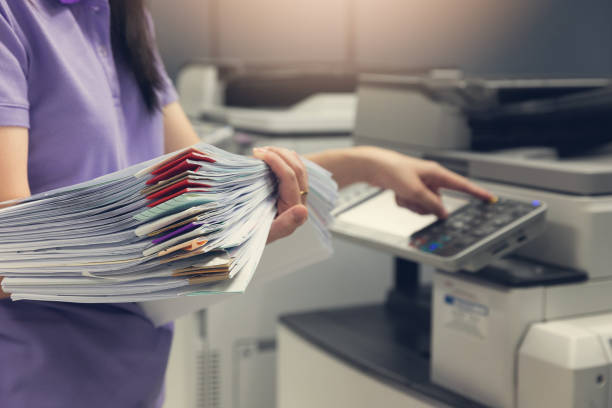 5 Methods Print Management Software Can Promote Business Development
Software for managing prints is a crucial resource for companies of all sizes. It facilitates the efficient and cost-effective management of printing jobs while streamlining operations and minimizing waste. Here are a few ways print management software can boost the development of your company.
1. Streamlined Printing
Print management software streamlines printing procedures and aids in cutting down on wasteful printing. Businesses can manage their printing jobs and make the best use of their printing resources with the help of print management software. You can create print policies using the web-to-print software to limit unneeded printing and manage the use of color printing. Businesses can save money and lessen their carbon footprint thanks to this feature.
Businesses can manage printing from one central location with the aid of print management software. This makes it simpler to manage printing across several devices, departments, or locations because you can manage all of your printing requirements from a single dashboard. The software also aids in print queue optimization, allowing jobs to be prioritized and simplifying the management of high print volumes.
2. Better Visibility
Print management software provides better visibility for all print-related activities. With the use of this software, organizations can simply keep tabs on their printing habits, track printing expenses, and spot opportunities for cost reduction. The software offers thorough reports that let companies examine their printing habits, spot trends, and take the necessary steps to cut costs.
Real-time monitoring of all print jobs is another feature of print management software, which enables companies to see problems early and take swift action. By guaranteeing that staff can work uninterrupted, this feature helps to decrease downtime and boost productivity.
3. Improved Print Statistics and Processes
It provides detailed statistics on all printing activities. Businesses can use this information to discover printing trends, streamline printing procedures, and cut down on print waste. Data about printing volumes, task types, and paper usage, among other things, are provided by the software. Businesses can use this information to make well-informed decisions about their printing requirements and to spot areas where they can cut expenses.
Business owners can automate printing procedures with the use of print management software. To reduce the need for manual intervention, you can, for instance, set up automated workflows that allow jobs to be automatically sent to the most suitable printer. This function speeds up the process and lowers the chance of mistakes.
4. Fast Turnaround and Availability
It enables businesses to print documents quickly and efficiently. Businesses can use the software to organize print queues, give projects a higher priority, and make sure that printing resources are being used effectively. By speeding up print jobs, this function guarantees that papers are always available when needed.
Web to print solution also enables businesses to print from anywhere. Employees may print documents from anywhere using desktops, laptops, or mobile devices with cloud-based print management software. Notwithstanding the employee's location, this feature makes sure that documents are accessible when needed.
5. Integration with Third Party Apps
Other business applications, such accounting software or document management systems, can be coupled with print management software. Businesses may increase productivity and streamline their procedures thanks to this tool. For instance, you can set up automated workflows so that when papers are uploaded to a document management system, they can be printed automatically. This function speeds up the process and lowers the chance of mistakes.
Integrating this software with third-party apps can also improve the security of confidential documents. By syncing with a document management system, businesses can ensure that only authorized personnel have access to sensitive information. Additionally, integration with accounting software can simplify billing and invoicing processes. It can track print usage and allocate costs to individual users or departments, making it easier to manage expenses. The ability to integrate with other software also means that businesses can customize the print environment to suit their specific needs. In this way, print management software can enhance efficiency, security, and cost-effectiveness across a range of business processes.
Conclusion
Print management software can provide a wealth of benefits to businesses that rely on printing services. This software can boost productivity, lower expenses, and improve print quality by automating and streamlining print processes. Businesses can find areas for development and improve their print environment by being able to manage and monitor print usage.
Moreover, this software can assist companies in remaining competitive in a constantly changing industry. To stay competitive in the face of the development of digital technology, print enterprises must be able to innovate and adapt. Businesses may provide clients with a more smooth and customized experience and set themselves apart from rivals by integrating print management software into their operations.
Finally, organizations can reduce their environmental impact by using print management software. Businesses can cut waste and save resources by supporting more environmentally friendly print methods like duplex printing and digital distribution. This not only helps the environment, but it can also improve a company's brand and attract clients who place a high value on sustainability.
Overall, print management software is a valuable tool for businesses in the print industry. By leveraging the capabilities of this software, businesses can unlock new levels of efficiency, innovation, and sustainability, and take their operations to new heights.