aiGuide On Saas For Healthcare Industry
After surviving the COVID massive pandemic, more and more people across the globe have started taking their health pretty seriously. As a result, healthcare organizations have begun incorporating all the latest tools and technologies which can assist medical professionals well, save lives, improve the overall quality of care, and give a quick boost in positive health status. The latest news in the healthcare realm is the introduction of SaaS for the healthcare industry. So what exactly is healthcare Saas? The following post focuses on what is healthcare Saas, why it is important and how it is beneficial in the long run, and top healthcare SaaS trends to take into account. So let's begin!
Healthcare Saas – The Basics!
With the increase in the usage of technologies such as AI, iOT, and cloud computing, the healthcare industry seems to be offering the best possible services from its doorsteps. Unlike earlier, in today's times, a patient is being treated in real-time and with utmost care. Now SaaS is basically Software as a Service where a different bunch of softwares is delivered via the internet. Yes, here there is no need to install or maintain any kind of software, simply it can be accessed via the internet. SaaS is more kind of a subscription-based model that offers numerous benefits such as quick and easy collaboration, high-end scalability, easy integration, seamless upgrades and a lot more. Not to mention, after the COVID pandemic, the SaaS model seems to have gained an immense amount of momentum, call it a ripple effect.
Technological adoption is no longer considered as an option. According to several stats, it has been assumed that the cloud market is supposed to reach $64.7 billion by 2025. Some of the best examples to keep in mind for a healthcare SaaS include EMR, EHR, Telehealth PMS, HMS, LIMS and the list goes on. Now here comes the big question, why healthcare SaaS is so much in vogue?
Benefits of considering Healthcare SaaS
Cost-effectiveness – One of the obvious benefits to take into account is cost-effectiveness. See here we are talking about the healthcare sector where every possible technology can cost you an arm and a leg. Also, here you are putting tons and tons of crucial data and sensitive information of your valued patients that shouldn't be misplaced or misused at any cost. Well, when you incorporate healthcare SaaS, you are bound to receive software which has the potential to safeguard information and data and that too with a little money. Here, there are certain aspects which are automatically well taken care of such as maintenance costs, setting up or installation costs, upgrades, and a lot more.
High-end security – Another crucial benefit of considering healthcare Saas is it offers high-end security. You see here healthcare professionals have the right to access numerous security-based features to keep the patient's data secure. Fortunately, now we have numerous compliances and standards such as HIPAA where all the information and data is kept safe and secured.
Real-time updates – The next crucial reason for considering SaaS is here you get to explore all real-time updates. Yes, any information or data displayed among these applications are absolutely correct and can be updated in real-time. Professionals also get to access the latest information from time to time. As a result, better care can be expected.
In addition to all these, healthcare SaaS is pretty much scalable, with real-time updates, easy and quick back-ups, fast and better upgrades and a lot more!
An Ideal HealthCare SaaS Software includes:
Management – Healthcare SaaS subscription, license management, real-time SaaS usage for tracking and seamless reporting, A/B feature version testing, and selected feature activation.
Billing and payment management – Agile billing systems, and payment gateways for accepting payments through a wide range of channels, handling sales tax, invoicing, and payment failure handling.
High user experience – UX optimized, intuitive user interface, Automated data synchronization, EHR, CRM, HIE, and user experience surveys to enhance the product.
Support for seamless medical and training staff and patients – help desk, video tutorials, webinars and forums, etc.
Compliance and data security – Data encryption, password-protection login, HIPAA, FDA and ONC compliance, DDoS protection, and so more!
Further, I would like to mention some of the top Healthcare SaaS trends to take into account.
Top Healthcare SaaS Trends to Consider
#1 Smart Artificial Intelligence Solutions (AI)
One of the best and most favorable solutions is smart artificial intelligence. You see, after all, the dominance of AI and ML shouldn't be ignored at any rate. By integrating disruptive technologies such as artificial intelligence, SaaS platforms can become high-efficient, self-learning and autonomous.
Well, not just the healthcare industry but several other industries and companies are found leveraging AI technology. As a result, the solutions are pretty much likeable. With the use of such technologies, it becomes easy and quite possible to parse relevant data and detect all the necessary patterns to process them. In case, if there is something fishy, the admin is notified in the nick of time.
#2 Attention to security
Another interesting trend to take into consideration is offering high attention to security. With security breaches happening day in and day out, it has become a compulsion for businesses to incorporate data security. Since all the patient's necessary information and records are digitized and shared via the cloud.  Ensuring necessary security models is a must here. The multi-cloud approach comes to the rescue. Data security is one such concern that shouldn't be ignored at any rate. So yes, it is such a healthcare SaaS trend that must be considered.
#3 Telemedicine
It may quite interest you to know that Telemedicine is expected to reach  636.38 billion USD in 2028. In addition, Telehealth services are pretty much HIPAA compliant to provide the best security and healthcare treatment for patients all across the globe. Some of the best examples are health apps on mobile devices and wearable technologies that ensure preventive care and nothing less for the patients. In fact, by using such technology, healthcare providers can get in touch with their patients virtually or remotely. As a result, seamless communication and collaboration have certainly played a role in the popularity of such Healthcare SaaS trends.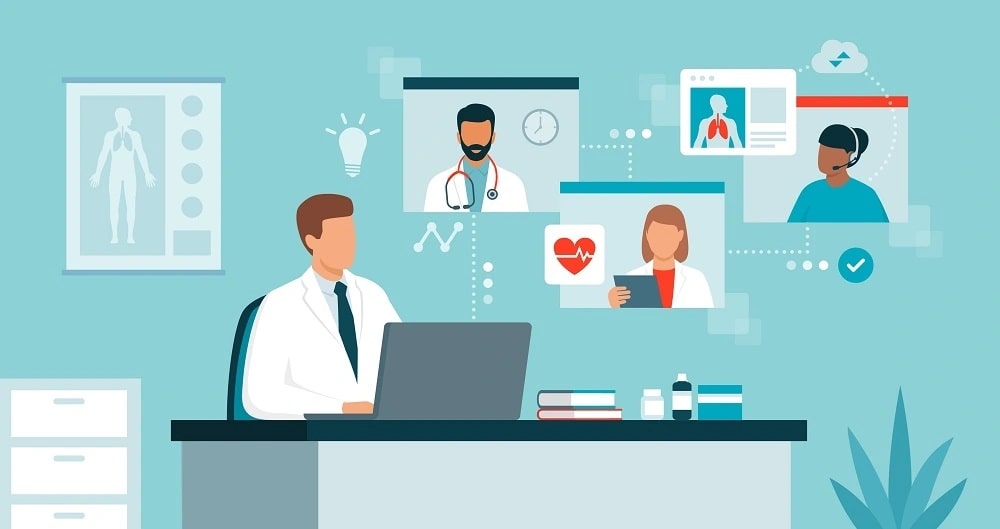 Conclusion
The overall future of the healthcare realm is pretty bright and rosy, all thanks to the emerging Saas technologies. Now the treatments will be provided in a better manner. So that's all for now! I hope you did find the following post filled with helpful and worth considering insights. In case, if there is anything that's bothering you regarding the topic, feel free to reach us out in the comment section below.