5 Ways AI Can Revolutionize Your eCommerce Marketing
As we all know; marketing isn't a piece of cake! To get your product loved by customers, for it to get to the hearts of prospects, and for it to remain relevant in the marketplace, doesn't just happen overnight! It takes a lot of effort, consistency, and many other deliberate actions to shake off the competition.
However, unlike before, the field of marketing is evolving at a great pace, all thanks to technology. Technologies like AI (Artificial Intelligence), VR (Virtual Reality), and (AR) Augmented Reality are revolutionizing marketing to the core. Additionally, metaverse marketing is another latest advertising approach that is taking the marketing realm by storm.
If you're an online merchant, you might be looking for various ways you can enhance your marketing to optimize results. Currently, there are many ways technologies are transforming marketing, specifically eCommerce marketing. With technologies like AI and VR at the center, marketers have little to worry about.
Already, technologies like VR and AR are being utilized in virtual stores to help customers try on products and make informed decisions. Within the realm of eCommerce marketing AI is also impacting marketing campaigns dimensionally. But how can this top-notch technology be of an advantage to you?
Incredible Ways AI Can Transform Your E-commerce Marketing
AI is a technology that powers machines to function like humans. It is generally a complex technology and comprises different facets such as machine learning, data mining, and natural language processing that allow it to display remarkable capabilities.
With AI in place, online merchants can optimize their marketing campaigns to boost a store's awareness, and customer experiences, or attract more customers. Besides that, they can stay afloat and optimize opportunities in the online world.
This article explores different ways AI can revolutionize your eCommerce marketing and help you reach targets effortlessly. Let's take a deep dive into it!
Data Collection & Analytics
Any effective eCommerce marketing campaign must be backed by data. There is no longer room for guesswork when it comes to predicting future trends, customer behaviors, purchasing power, and interests. AI use in eCommerce marketing offers a platform where merchants are able to gather volumes of data that guide their decision making processes.
Merchants are able to evaluate present and historical data (predictive analytics) and predict future trends. They then utilize the insights to fill stores with products that customers like. If you're an online merchant and want to enhance your online store's performance, it's best to invest in AI tools. AI tools allow you to centralize data, track it, and make the best decisions.
AI use also offers a platform for automation. Automation tools eliminate repetitive tasks which helps you to focus on more important tasks. Streaming from CRM tools to Chatbots, these possibilities can help you ensure frictionless shopping experiences. Moreso, they ensure 24/7 customer support which improves customer experience and satisfaction.
2. Hyper-Personalization
You may be used to the term personalization in marketing, but it's high time you familiarize yourself with hyper-personalization. Hyper-personalization generally refers to the process of leveraging data and analytics to create more targeted customer experiences. Findings indicate that personalization should be a top priority if marketers want to optimize their omnichannel marketing strategies.
Besides that, it boosts customer acquisition, engagement, and business revenue. However, hyper-personalization is a more reliable medium for taking marketing campaigns to a whole new level. Hyper-personalization drills deeper since it relies on explicit data to present even the tiniest facts about an individual customer.
In this way, you can optimize your marketing by leveraging copywriting tips and correct customer data to deliver emails or messages that connect deeper with them. AI also caters to better customer segmentation which helps to deliver a more personalized experience.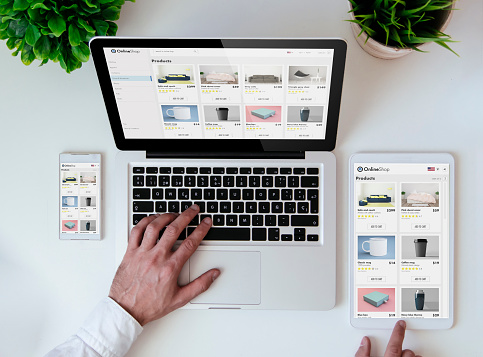 3. Effective Product Recommendation
As an eCommerce marketer or online merchant, you might be aware of the importance of product recommendations. Product recommendations not only drive sales by positioning products in front of the right eye, but they also improve customer journeys.
Modern customers believe that their brands must know them better. This means that parading products in front of a customer that he or she would be interested in increases their trust in a brand.
AI is key to hyper-personalized product recommendations and this helps to present products to customers that they are more likely to buy. AI tools assess past data and product searches and then make recommendations to a customer. In this way, there are higher chances of a customer making a purchase and this benefits a store.
A perfect example, in this case, is Netflix. The online streamlining platform collects $1 billion in profit annually, thanks to its recommendation system. Studies indicate that over 80% of the shows that people watch globally are discovered through the company's recommendation engine.
With that, an AI product recommendation system can surely help you make more sales by extending your products' reach to customers and prospects.
5. Easy Retargeting
What happens when a customer displays interest in your products but never returns to your online store? Or, the customer adds a few products to the cart, but abandons them there? There are many causes of cart abandonment and if not well addressed, this can hamper business ROI and conversions.
From high prices, long checkout processes, and excessive web forms, all these can chase customers away from your online store. However, effective retargeting is the answer. AI tools are a reliable way of attaining insights from customer data. They can display customer behavior, preferences, demographics, and personal information that you can use to retarget them.
Tools like Google Analytics and CRM systems can help you understand the performance of your website. In this, you can understand whether your site is optimized for customer experiences or not. Also, this data can help you reach out to customers through hyper-personalized emails which improve marketing KPIs like website traffic and conversions.
Additionally, customer data helps in price optimization if it's necessary to ignite interest in customers again. This in the long run improves sales and business profit.
6. Seamless Customer Experiences
Technology is impacting every sphere of life and customers love it. Any business that fails to leverage the necessary technologies to enhance business operations is positioned for failure. Interestingly, when utilized, technology also impacts customer experiences.
Modern customers would love to try out new things when interacting with your brand. That's why things like virtual assistants, voice commerce, and VR in online shopping are no longer a myth. Customers are delighted to use these technologies during their interactions since they quicken information access and improve their experiences.
Moreover, when you introduce your customers to chatbots, you will have improved customer service drastically. Precisely, your store will be optimized for frictionless shopping journeys which increases customer retention.
Bottom Line
E-commerce marketing involves practices that drive traffic to an online store, convert visitors into customers, and retain them. If you're an online merchant you might be looking for better ways of enhancing your eCommerce marketing strategies. If you've tried everything else and are still struggling in any facet of your business, then it's time to consider AI.
AI is leveraged by 90% of marketing professionals globally, according to Statista. These use AI in many ways; streaming from content creation, and personalization, to automating customer interactions. Surely, it will help you improve your eCommerce marketing strategy.