The Upcoming Lipstick and Make-up Trends in Spring-Summer 2022
Dark, intense, artfully smudged, dabbed with blush, contoured in pencil: the lips are finally back after being hidden for so long. Spring 2022 make-up trends look at past trends and reinvents them in a contemporary way.
Lipsticks are everything for beauty. They are undeniable parts of our lives. The lipsticks are always a pick-me-up item, even for women who don't like to wear makeup. Although, applying lipstick is fun, with the pandemic going on for about 2 years, showing our lips has been almost impossible. However, thanks to the slow abandonment of the masks, lips are back in the game. This is confirmed not only by the make-up seen in the recently concluded fashion month but also by the new beauty collections that bring the focus back to the lips. So, without beating around the bush, we can say that this year's main characters are lipstick and gloss in 2022 make-up trends.
To Bring Courtney Love Out Inside You
Although in today's world women tend to apply lighter shades of lipstick, thanks to the Kardashian family, in 2022 make-up trends, we will see a darker shades of lips. Since we haven't been able to display our lovely lips because of the masks, this year's trend prefers to gloss and polish our lips. Especially this spring, we are about to see the trends from the past. Specifically, the 90's revival with the Grunge Lips. For those who don't know the meaning of the term Grunge Lips, the lips are basically donned with darker shades such as brown and burgundy, and occasionally plum. Characterized by a flawless smudged look, the Grunge Lips are particularly fascinating in shades of mauve and brown. And aside from its allure, the Grunge Lips trend is a very trouble-free look as well because  you don't have to apply again and again. So, the more your lipstick fades during the day, the more it will express the beauty of those years. In order to create this look, just simply apply a dark shade of lipstick and maybe smudge them a little bit for the grunge effect.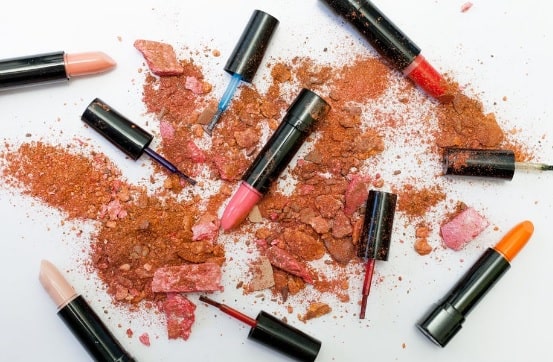 For Subtle Rosy Lips
Going further from the darker shades of lipstick, the Flushed Lips trend is a popular technique as well. You may have seen this type of lipstick but do you know how to create it? This look can be done with just the usage of cream blush, in order to create a ton sur ton make-up. This type of make-up is very similar to the "tint trend". In this technique, you use the same product for all differents parts of your face. If you are a user of TikTok, you are already familiar with the Tint Trend. It is a very well-known make-up technique on this app. To do the Flushed Lips it will be enough to spread the blush on the lips with the fingertips and tap it slightly outside the contours. And the beautiful part of this trend is, there are not strict methods to do it. Hence you can choose a colour which works for you the best. The range of the scale is wide, from pastel and soft tones to dark and gloomy ones.
Use these Make-up Trends To Make Your Lips Look Bigger
Another 1990s lipstick trend is the lip liner and lipstick duo. Though, the usage of this look, overlining lips,  was a lot in the past, nowadays, women prefer to create their lips less complicated than this method. Although there have been some Beauty Influencers on Instagram and Youtube that have done this pencil-lipstick combo in recent years, they have often been deemed too out-of-fashion. So, the overlining lips trend couldn't really come back because of this backlash. But, they are part of the fashion world again and you can create this appearance all you want without being criticized heavily. This make-up looks is particularly done with the nude shades of lipsticks, pencil liners that are darker than the lipstick shade and gloss. For those who want to try these lips out, firstly, you need to shade the corners of your lips and define the cupid's bow with a lip liner. To make your lips bigger, just go a little outside of your lip line. Fill your bare lips with a lipstick, which needs to be one or two shades lighter than your lip liner to create that dark-light variation so it looks like ombre. So, we can say it is somehow similar to the ombre lips trend. Lastly, apply your lipgloss on top of your lipstick and you are good to go.
What else to do other than these make-up trends?
Lips for 2022 are tinged with every type of shade, such as inevitable red – a color that cannot be missing in any palette – but also fresher and more perfect colors for spring-summer seasons, like cherry, mauve, fuchsia, pink peach and coral. So if you don't prefer to follow the trends listed above, you can experiment with any lipstick that suits your taste. The point is the show your long-time covered lips to the world. It's your lipstick palette to choose from. Go and free your lips!